I got inspired to create my own Original Character and thought about doing it in a creative way. Sort of like a journal dedicated totally to one (or maybe more characters if that is easier for me.) I chose a cute (or should I say creepy) composition book. :


I may or may not regret using line paper and poor paper to begin with but knowing me I need lines to write and the book was just so cute I just had to use it for something special.

The back of the cover will have my name and then the first page will be a drawing of my character and her profile for the next few pages.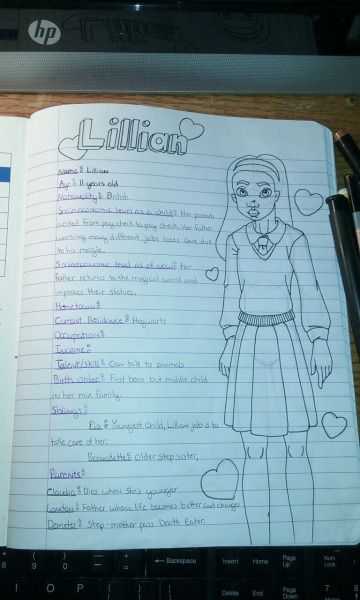 Haven't filled in the whole profile yet.

Besides doodling on a few pages to make the paper scream out to be written on I got caught on what else to write about her. Besides a detail profile of her likes and birthday and a page made up of her backstory. Till I came up with a few prompts. Drawing my character and her friend as Alice in Wonderland chibi characters and deciding to make that page about odd dreams my character would have.




Here is a few other drawing and writing prompts I came up with:

Draw your Oc and make a profile about them.
Draw your OC as a mermaid/man then on the same page write a day at the sea for them.
Draw your Oc as a character from Alice in wonderland and the write a weird dream they have had
Draw your Oc as a dancer or dancing and write a short story or about a time when they danced
Draw your Oc as a maid/Butler and write a page about how they keep their room/house
Draw your Oc's family tree and dedicate a page to their families history
Dedicate a page to doodling in the style of your character.
Draw objects that are important to your Oc and then write about its history and reason why
Draw your Oc's favorite outfit and then write about their style and taste of clothes
Draw your Oc's best friend and then write about their friend and how they meet
Scribble or use stickers to enhance a page or two and write journal entries as your character would in their day to day life

That's as much as I came up with for myself. I was wondering if any one else has thought about this or has done this. And maybe they would like to do it with me? Feel free to use the above to your own OC prompt journal.